Fee Details 2019 – 2020
Fee for Pre-Med
Total fee is =25,000-RMB (Inclusive of tuition and accommodation)

Fee for Clinical Medicine
Tuition Fee is =42,000-RMB/ Year after scholarship (6 years of Clinical study on per year basis).

Other Charges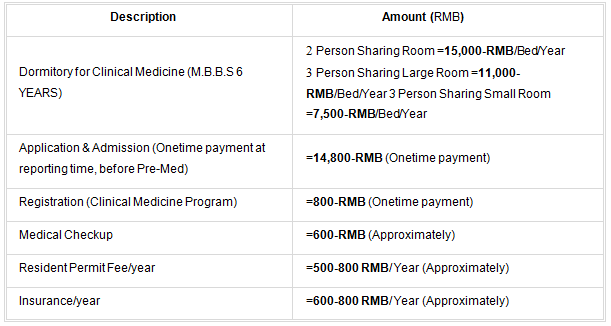 Notes:
• Fee should be paid within one week after the arrival of student at the university.
• Pre-Med fee and other expenses should be paid in cash after arrival at international school.
• Tuition fee and accommodation can be paid by student account or transfer to university account.
• In case of the termination of studies (in any way), none of the above-mentioned fee would be returned or transferred.
• All the fees mentioned above are paid in RMB (unless specified otherwise).
• Tuition and dorm fee should be paid directly to university; rest of the payables should be paid to designated departments and organizations. No individual or firm is authorized to take any fee without written approval from International School of Capital Medical University.
• Students would pay amount of insurance, resident permit, books, license preparation course etc. to the relative authorities, when due.
• Accommodation will be arranged by school at first come first serve basis. Student's preferences are subject to change according to availabilities.
• E-Learning subscription fee will be paid to the designated department, when due.